When placing your order you will have the option at the end of picking up your order at no charge.
Orders must be placed by 3pm for next day pick up or delivery.
Orders my be picked up between 12-4pm.
Please call 902.446.5588. and press 2 when you arrive and we will bring your order to your trunk.
$ 20 minimum online order.
Telephone orders may be made from
11am-4pm Tuesday-Saturday
by calling 902.221.6672.
Select a Category
Combos/Boxes
Entrees
Soups & Stews
Salads & Side Dishes
Bakery
Dairy
Coffee/Alcohol
Merchandise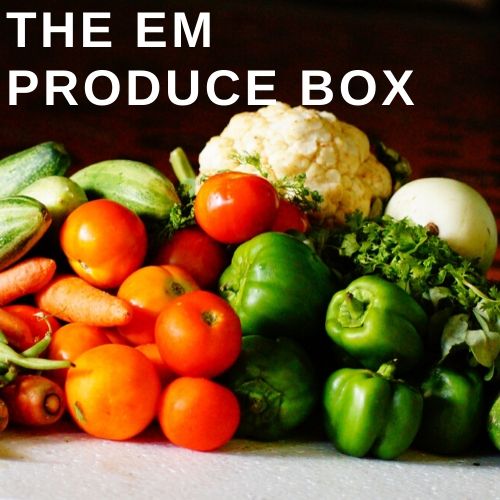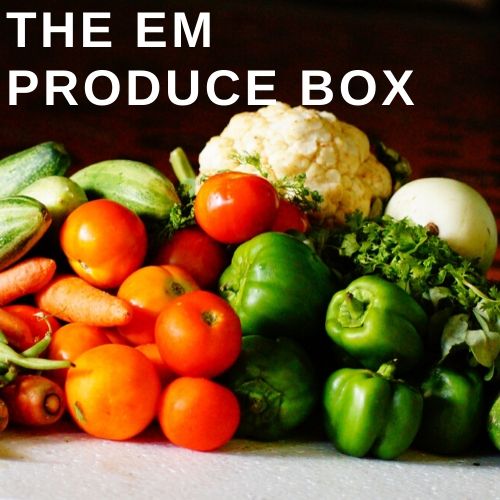 A one-time price of
$40.00
will be added to your order.
The core produce box contains the following:
Boxes are hand packed by EM staff to ensure freshness and quality. 
Each week will also feature two additional freshly chosen vegetables:
3 lbs potatoes
2 lbs onions
2 lbs carrots
1 head Romaine lettuce
1 bunch celery
1 lb tomatoes (about three)
1 green pepper & 1 red pepper
1 cucumber
1 lb parsnips

This week's features: 1 broccoli crown, 8 oz asparagus
Sorry, no substitutions.